Marvin's Eightieth Birthday party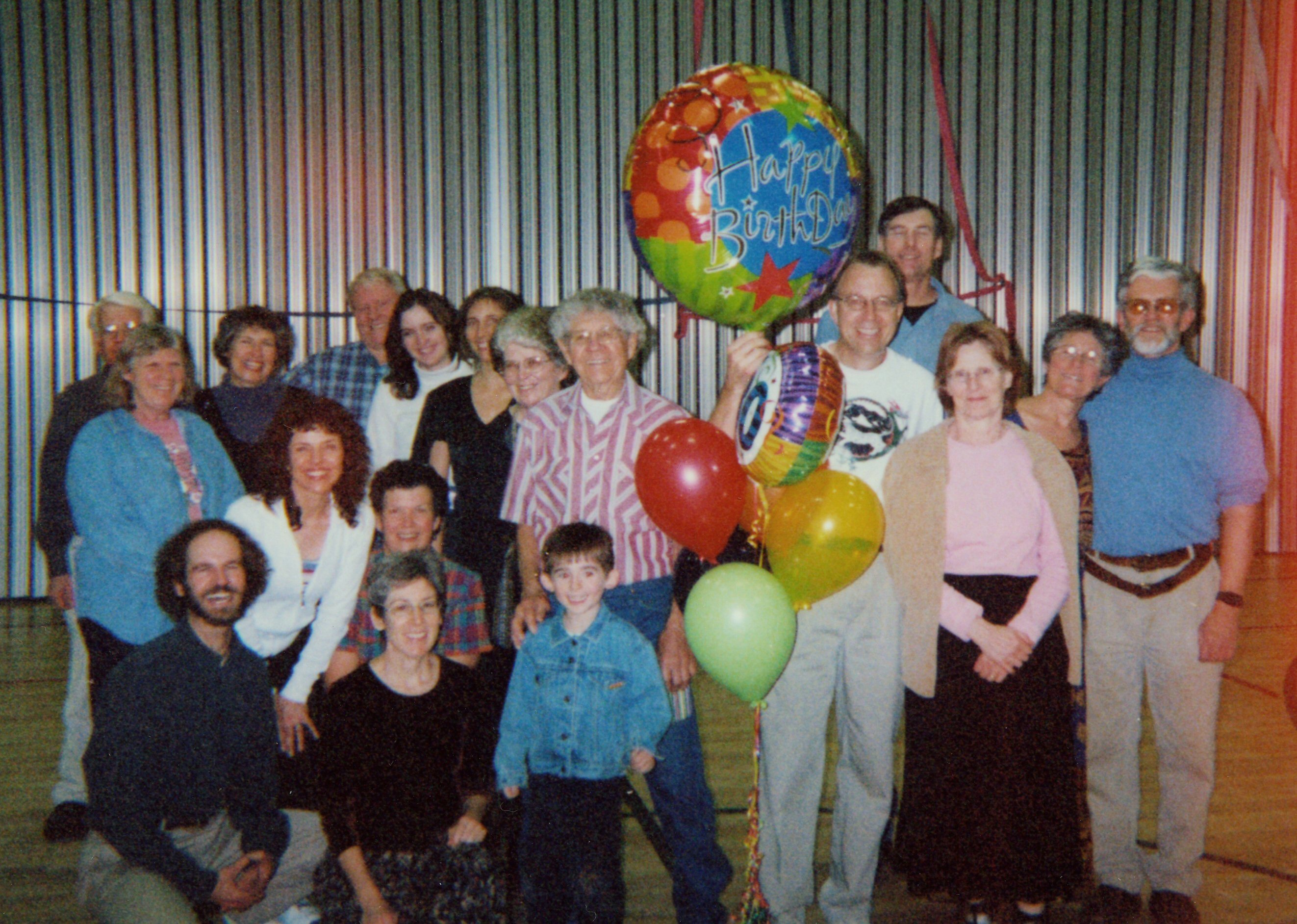 Group shot, click on picture to view larger
2004 at the Salvation Army Gym Marvin's eightieth bithday party
Hi,
Rosalind, Linda, Allison, Laurie, Cris, Ardyce, Larissa, Lita Margaret, Marilyn, Missy, Barbara, Cissy, Connie, Russ, Don and Rose, Jackie Z., John and Diana, Jon, Max and Eva, Hank and Mardia, Sally and Alan, Sam and Ruth, Sarah, Sue, Jackie V., Christie, Lauren, Richard and Susan, Cecelia, Tim, Brenda, Joe, Georgia, Ed and Deanna, Michael and Susan, Sally D., Debbie F., Julie T., Cathy,

There has been a change. There WILL be folk dancing next week, November 13, from 7 to 10pm. Thanks to Jon and Larissa. Russ will be teaching in Bozeman. Cris, Joe, Missy and myself will be learning Armenian dances in Calgary.

Dances from November 6, 2004 at the Salvation Army Gym, 7-10 PM. (close to the order we did them in)

There wasn't much of an early bird practice session this week, Just Cris and Larissa doing: Pe Picior din Tinca -Romania, Transilvania

Introductory dances, #1-6,8 and 9.(with very brief discriptions, just to help jog the memory -thanks Cecelia) 7:00-8:00:

1 Mana'a vu -Israeli circle, Arms start in W. Touch R toe front, side (no weight on those two) back -take weight- bring left foot next to right step R foot forward and rock back and forth bring R foot back next to left, raise up and down on your toes and rest. Repeat with opposite footwork. (Briefly that is, rpt opp ftwk) Yemenite step (fake R, cross R over L) cross L over R, step together step. Repeat from Yemenite 3 times

2 Jacob's Ladder -Also know as, Ssulam Ya'Akov or Shulam Yaakou from Israel. Circle. Arms in V. Two parts, starts slow then speeds up. 1st part: make a box, ie -two side steps to R, walk into center with L R, two side steps to L, back out with R L.)

3 Jiana -Transylvania, Romanian -Back basket hold, long introduction, begin with singing, R foot in center rock back and forth moving to the left. Happy, bouncy -this is a love song. Then two side steps to R. rpt opp, two side steps to R, stomp R 4x, Grapevine: R in cross L, R out behind L, rpt. Stomp L once, Buzz step: keep R in center push with L -look up and lean back...be happy.

4 Zemer Atik -Israeli circle, pizza server hand hold, walking four steps (starting with your R foot) clap two times - about head height- to the outside of the circle, then once to the inside.

5 An Dro Retourne -Also called, "Changerais-tu?" -France\Brittany Two parts. 1st Pinky hold, arms up, bent elbows, arm movement making small circles, moving two step-together-steps in, then out; moves left in circle. 2nd part has the claps.

6 Robin Ddiog [Ddiog sounds like thee-ogg] (Idle Robin or Lazy Robin) From Wales, line dance. Arms down, moving to the right, (the way we do it) quick walk 7 steps, the 7th step slightly into center, in 4 steps walk clockwise around the imaginary nest on the floor, then stomp out a beat with your feet -yah forget it if I can describe that briefly!- then take weight on R swing L infront of R, rpt opp, rpt those (total of 4 swings) then stomp out the beat as mentioned.
-that's enough jogging for now! :)
Hambo Sweden
Gerakina Greek Russ taught
Lesnoto Medley, from Nama #1 Macedonia
Jack's Maggot English Russ taught
Repeated Jiana Transylvania, Romania
"Swineherds Dance" Ugros "For a Birthday Marvin's"
Pidhichtos Banas (PEE deek tos BAH nas) North Thrace
Mairi's Wedding Scotland Russ taught

We Sang Happy 80th Birthday to Marvin (his actual birthday is the 10th). While goodies were being served a few tried:

Kulsko NW Bulgaria.
Then Cris and Larissa did: Pe Picior din Tinca.

Dancing resumed with:

Agir Halay Turkey
Hora pe Gheata Romania
Itele (EE tseh leh) Romania
Dedo Mili Dedo Macedonia (Cathy this was the "complicated" one)
Ratarsko Kolo Serbia
Kritikos Syrtos Greek
Galaonal de la Birca Romania
Fife Ness Scotland Russ taught done twice This was the confusing one! ;)
Makazice/Bela Rada Serbia
Waltz "New Blue Skirt Waltz"
Kuma Echa Israel
Trite Puti (AMAN 3) Bulgaria
Heya Heya Modern Israeli couple dance
Mayim Israel (It rained too!)
Birchot Havdalah Israel
Joc Batranesc din Niculetel Dobrogea, Romania
In attendance (19)
Ben V. (Jackie's husband)
Brenda
Carli F.
Cathy 1st time flik dancing in 25 years! Welcome
Connie
Cris
Don S.
Jackie V.
Jackie Z.
Joe
John F.
Jon
Larissa (her husband Joseph arrived with their two kids Jeramia and Leah to partake in the singing and birthday goodies.)
Lita
Marvin
Missy
Roger
Rose S.
Russ
Announcements:
Saturday* International Folk Dance, November 13, 2004 at the Salvation Army Gym, 7 to 10pm.
Swing Dancing will be the 1st Friday and the 3rd Saturday of the month. Lessons-7:30-8 or so. Dance, 8ish to 11:00. $5.00 Cover
The 3nd Contra Dance of the season will be at the Sons of Norway. November 12, 2004. (The 2nd Friday of each month.) The Sons of Norway's address is 347 1st Ave E. The dance is from 8:00 to 11pm, with the beginners' workshop starting at 7:30pm.
From Eva and Max: Hello Fellow dancers,
Just want to let you all know that we are resuming folk dancing here in Butte on Sunday evenings 7-9 p.m. at the Sacred Ground Center 126 S. Main. If you can get over for dancing and don't want to drive home the same night, we have a couple of extra beds at our house-- give us a call if you want to do that.
Hope to see you sometime soon,
Eva and Max
Wintergreen Contra Dance 2005 at Bozeman, MT. Jan. 28-30. Brought to you by the Bozeman Folklore Society
www.bozemanfolklore.org
The Montana Steam and Stomp at the Boulder Hot Springs will be the last weekend of February, 2005! Will cost a little more than last year. Bill sent me a note weeks ago but it has disappeared, but there is still time to get the cost details.
Interesting Web site: Anyone learning Romanian now? Here is an English to Romanian dictionary:
www.dictionare.com/english/
Check out our Folk Dance web site, brought to us by Cris Jones:
wwwlmontanafolkdance.org/
Any suggestions, comments, corrections, you have are welcome!
On a personal note, THANK YOU to all who have provided me with well wishes and suggestions for a rapid healing and recovery of my left knee's bruised Bursa. I'm not 100% yet but am headed in the direction.
Till next time
Roger