The demo dance at the Kalispell Center Mall went well, and we only needed to dance for an hour. They had recruited a singing group from Whitefish to fill the last half-hour. That left some time to wander around and watch the line dancers and others. Good fun, though the crowd wasn't really a "join-in" bunch this time. And we didn't get to do a couple of favorites, so we can do them next week.
We got to sing happy birthday to Jackie at the mall, on her birthday, but we skipped Roger because we were at least 24 hours too early. Maybe we can serenade our dance leader and webmaster next week too.
Share Fair - 2014
10:00 AM
Kalispell Center Mall
Description:
Community Agency Fair for all ages. Strengthening Community Connections! Information about social service agencies, give-aways, demonstrations, live entertainment throughout the day. Face painting, balloons, activities for children, health and human service booths - get involved in your community. 9:45 a.m. Million March Against Child Abuse - meet at the JCPenney Court, and 12:00 The Parade of the Young Children meet at the Herberger's Court. The Nurturing Center Dream Builders Playhouse Raffle event. Sponsored by United Way, Million March Against Child Abuse, FAEYC - Week of the Young Child, and The Nurturing Center.
Our time slot was from 2 to 3
Here are the dances we did:
Djado mitjovata
Postie's Jig
Kritiko Serviko
Tamzara
Dospatsko Horo
Ya da kalinushku lomala
Cumberland Square
Harmonica
Tervelska Tropanka
Mana'avu
Levi Jackson Rag
Joc de leagane
Changerais-tu

Bulgaria
Scotland
Greece, Crete
Armenia
Bulgaria
Russia
USA
Israel
Bulgaria
Israel
USA
Maramures, Romania
Brittany
setting up at the Kalispel Center Mall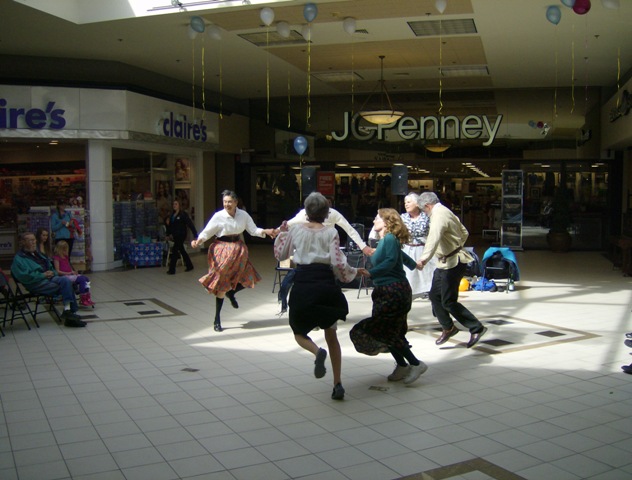 Harmonica - Isralie dance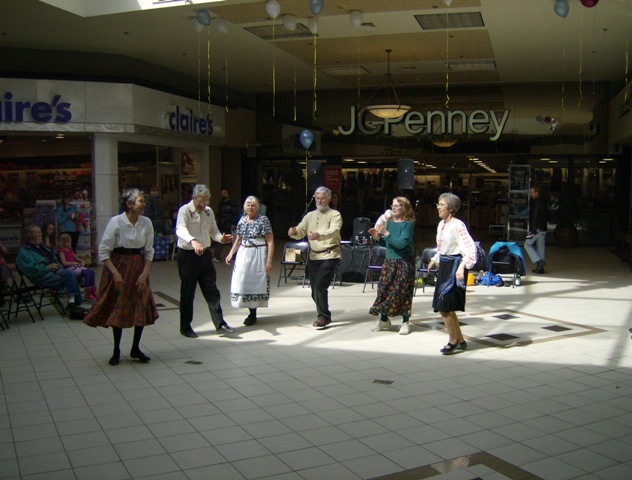 Loose baloons in the mall skylight
Our friend Linda (front left) dancing
with the Western Line Dancers